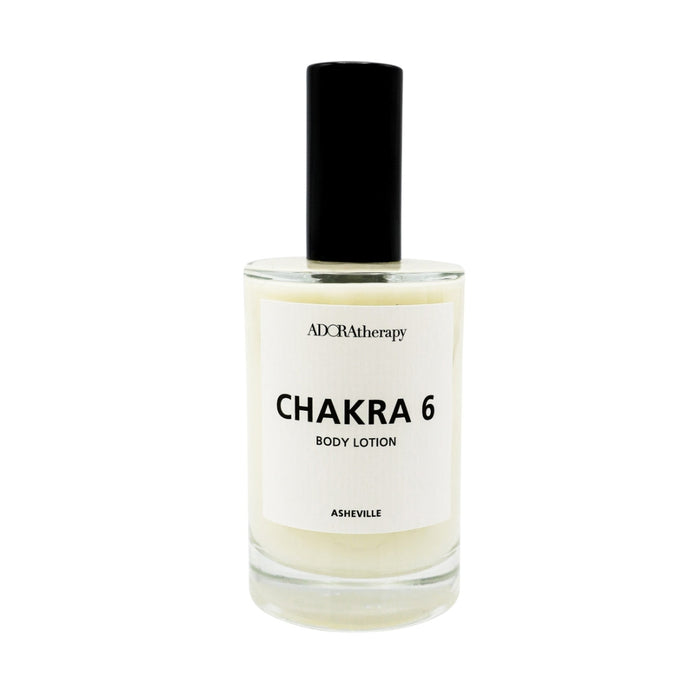 Chakra Healing Lotion Number 6
Original price
$35.00
-
Original price
$35.00
"I SEE ALL SITUATIONS & EXPERIENCES WITH THE UTMOST CLARITY"

Aroma
Herbal, Mystical, Sacred

Top Notes
Tulsi + Frankincense + Myrrh
Heal your third eye chakra and awaken your intuition.

Perfect for daytime and nighttime, this light chakra lotion is infused with skin loving almond, avocado, jojoba and vitamin E oils. 

Four rich oils—Almond, Avocado, Jojoba, and Vitamin E—deeply nourish, moisturize, and penetrate your skin.
Scented with organic, therapeutic grade essential oils —smell beautiful while healing and balancing your chakras.
Apply directly onto your skin or onto your hands and body. Apply directly on your chakras to balance and heal. Use on your neck and shoulders generously as an alternative to perfume. Don't forget to breathe in from your palms and pulse point to activate your healing breath.
Neither sticky nor greasy, absorbs in seconds, leaving lightly scented and hydrated skin dry to the touch.
Ingredients
Water; Jojoba Seed Oil; Glyceryl Stearate & Cetearyl Alcohol; Sodium Stearoyl; Lactylate; Sodium Lactate; Cetyl Alcohol; Phenoxyethanol (and) Caprylyl Glycol (and) Sorbic Acid; Tocopherol Acetate.
Essential oils of lavender, tulsi, frankincense, myrrh, cardamon, spikenard and jasmine absolute.
Handmade in small batches in the USA with clean ingredients and conscious manufacturing.
Vegan
Cruelty Free
No Artificial Fragrance
Paraben Free
Phtalate Free
Colorant Free
Refund Policy

We do not accept returns on items, except for clothing and shoes.

If clothing or shoes, we will accept returns up to 30 days from the date of shipment.

For all other items, if your item is damaged, lost, or incorrect, we will provide a refund within 30 days of the date of shipping. Please find our full refund policy here.