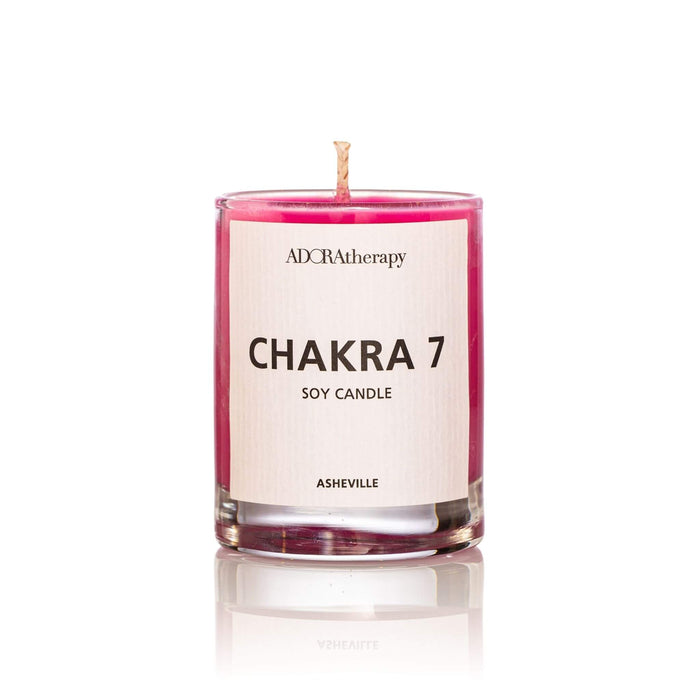 Crown Chakra Meditation Candle
Original price
$15.00
-
Original price
$15.00
The Chakra 7 Meditation Candle supports your Crown Chakra.
Visualize the color fuchsia or white and breathe into your Crown Chakra, elevating your conscious intention for peace and self-reflection.
"I AM OPEN TO EXPERIENCE THE DIVINE NATURE OF MY LIFE."
Aroma
Herbal, Floral, Calming
Key ingredients
Lavender + Rosewood + Cardamon
Not just any candle, our soy meditation votive size candle goes beyond luxury.
Scented with the perfect fragrance oils, your room will smell beautiful while you heal and balance your chakras.
Unlike paraffin and petroleum-derived 'premium grade' candles which release chemicals into the air when burned, our non-toxic candles are made with 100% pure soy wax and fragrance oils.
Ingredients
Soy Wax and Fragrance Oils infused with essential oils.
Instructions:
Our candles are made with natural cotton wicks. For optimum burn, please make sure to trim the wick to 1/8" before every use. For optimum candle performance allow the wax pool to completely liquify, extinguish and let cool. This will allow the candle to burn evenly and completely. Never leave a burning candle unattended or burning for more than 2 hours. Keep away from drafts, children, pets, and all flammable materials.
Handmade in small batches in the USA with clean ingredients and conscious manufacturing. 
Vegan
Cruelty Free
Paraben Free
Lead Free
Cotton Wick
Refund Policy

We do not accept returns on items, except for clothing and shoes.

If clothing or shoes, we will accept returns up to 30 days from the date of shipment.

For all other items, if your item is damaged, lost, or incorrect, we will provide a refund within 30 days of the date of shipping. Please find our full refund policy here.