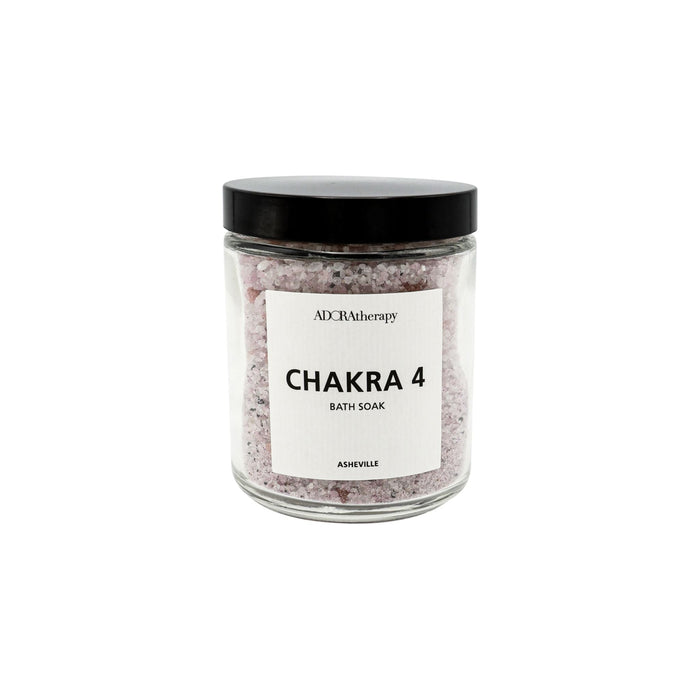 Heart Chakra Bath Soak Number 4 with Rose & Geranium
Original price
$35.00
-
Original price
$35.00
"I CHOOSE JOY & COMPASSION"
Aroma
Floral, Clean, Soft
Top Notes
Gardenia Monoi + Rose + Jasmine
Heal your heart chakra and awaken your compassion for self and others.
Create a bath time ritual that relieves mental and physical stress and fatigue. Our three healing bath salts and essential oils provide a high dose of minerals and chakra balancing while you soak.
Our bath soak is infused with milk protein, oat flour, coconut milk and dried crushed flowers. Your bath water will be softer and soothing, and our formulation won't leave a mess!
Three healing natural salts—Hawaiian Black Sea salt, Dead Sea salt, and Himalayan Sea salt— The biggest cause of fatigue, imbalance and disrupted sleep cycles is demineralization caused by stress, making this soak a must have.
Scented with organic, therapeutic grade essential oils, smell beautiful while healing and balancing your chakras.
The combination of minerals and essential oils will restore your cellular function while the aromatherapy removes toxicities from the body and mind.
Scoop a handful or two into your hot running bath water and magically transform your bath into a spa.
Enjoy a 20-minute bath 1 to 3 times per week. Right before bedtime is optimal for mineral absorption and overnight skin repair.
Perfect for 4 to 6 baths.
Ingredients
Dead Sea Salt, Himalayan Sea Salt, Tapioca Starch, Hawaiian Black Lava salt, Maltodextrin, Milk Protein, Oat Flour, Dried Crushed Flowers (Lavender Buds, Rose Petals, Jasmine Flowers), Sodium Chloride, Coconut Milk, Organic Essential Oils and Absolutes.
Handmade in small batches in the USA with clean ingredients and conscious manufacturing.
Vegan
Nourishing
Healing
No Artificial Fragrance
Cruelty Free
Refund Policy

We do not accept returns on items, except for clothing and shoes.

If clothing or shoes, we will accept returns up to 30 days from the date of shipment.

For all other items, if your item is damaged, lost, or incorrect, we will provide a refund within 30 days of the date of shipping. Please find our full refund policy here.