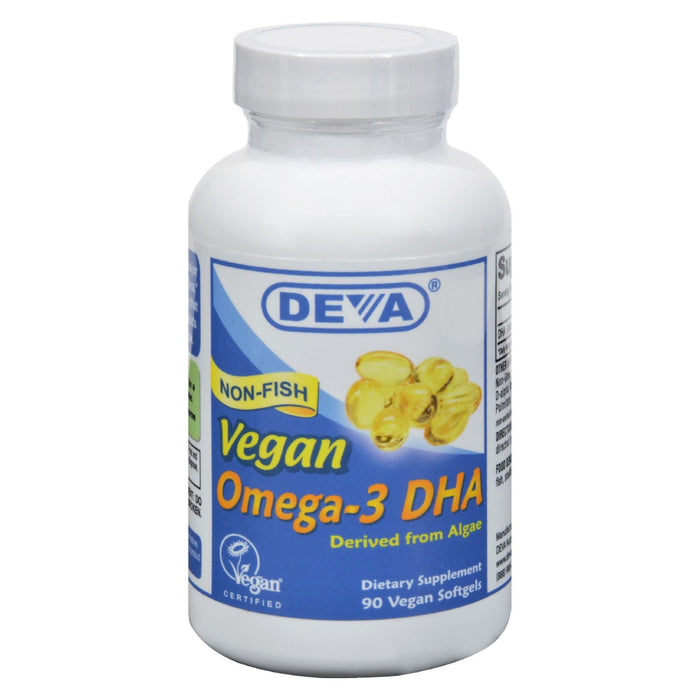 Omega-3 Dha - 90 Vegan Softgels
Sold out
Original price
$24.99
-
Original price
$24.99
DEVA™ is proud to offer its new 300 mg potency Omega-3 product that contains both DHA and EPA derived from a completely vegetarian source (i.e. Schizochytrium sp microalgae). Algal Omega-3 oil has been commercially available for a while but it did not contain meaningful amounts of EPA. This new product contains both DHA and EPA from microalgae that is grown in a controlled land facility, outside of the ocean. From start to finish, it is produced in an FDA-inspected facility, under current Good Manufacturing Practice (cGMP) regulations with controls in place to ensure the highest quality product.
The new DEVA DHA & EPA oil is encapsulated in non-animal vegan softgels, which are also carrageenan-free. 
**NO GELATIN or other animal-derived ingredients**
DEVA Omega-3 DHA & EPA is 100% vegan, vegetarian and is registered by the Vegan Society, the non-profit organization that actually invented the word "vegan".
Refund Policy

We do not accept returns on items, except for clothing and shoes.

If clothing or shoes, we will accept returns up to 30 days from the date of shipment.

For all other items, if your item is damaged, lost, or incorrect, we will provide a refund within 30 days of the date of shipping. Please find our full refund policy here.