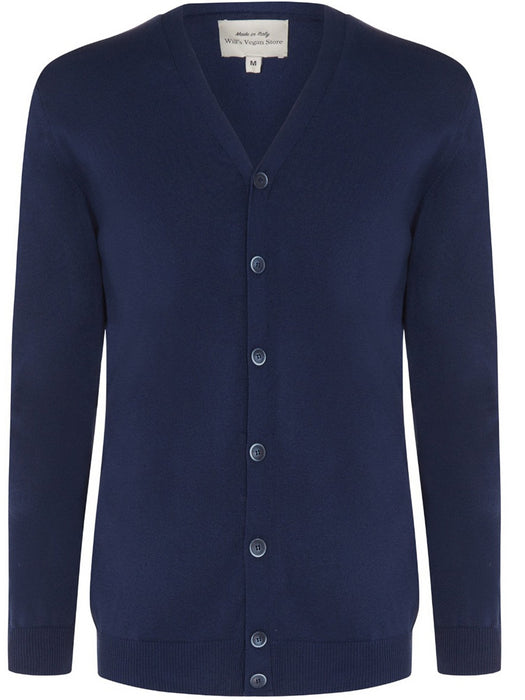 Recycled Knit Cardigan
Original price
$78.99
-
Original price
$78.99
Our notes
Recycled cotton ♻ and recycled polyester ♻ (made from recycled clothes) were finely knitted in Italy to create this light-weight carbon neutral fitted cardigan. The versatile navy blue colour compliments greys, browns and even black. It combines smart with comfy so can be dressed up or down, increasing your opportunities to add it to an outfit. There are seven 90% bio resin buttons on the front, giving you the choice to leave loose or button all the way over a shirt, polo or t-shirt. We have chosen to use recycled cotton because it has less impact on the environment vs new cotton (including organic). Recycled cotton does not need to be grown which means it saves on water, energy, fertiliser, pesticide (for non organic cotton) and co2 emissions from its farming & transport. Our recycled cotton is created with pre dyed off cuts from the textile industry. On average each garment in the collection has saved 33 litres of water and 2.6kw electricity because it has not been dyed. It has also helped reduce the waste disposal of these offcuts which are usually incinerated. We are working hard to help you reduce your impact on earth making it easier for you to Make A Positive Choice. Like everything we make and do, this Recycled Knit Cardigan is certified Carbon Neutral. There is no packaging waste, we only use biodegradable plastic free packaging from the paper bags to the paper tape we use to seal them. Your delivery is certified Carbon Neutral, if you choose to use our 365 days free returns and exchanges service, that is certified Carbon Neutral too. Our clothing collection is ethically produced in small batches in the heart of Tuscany, Italy. SUSTAINABLE // ETHICAL // VEGAN FASHION
Light-weight fitted cardigan.
Combines smart with comfy so can be dressed up or down
Made from a fine gauge knit of Recycled polyester (made from recycled clothes) and Recycled cotton
Ethically produced in small batches in a small family owned factory in Tuscany Italy
Luxury sustainable Italian vegan knitwear
Ethics & Sustainability
This product is certified carbon-neutral
It's delivered to you through our carbon-neutral supply chain in paper and cardboard packaging
You can return it free of charge for 365 days with our paperless carbon-neutral returns service
Use our return to recycle service when this product's at its end of life
Always and forever vegan
Made in Italy
Refund Policy

We do not accept returns on items, except for clothing and shoes.

If clothing or shoes, we will accept returns up to 30 days from the date of shipment.

For all other items, if your item is damaged, lost, or incorrect, we will provide a refund within 30 days of the date of shipping. Please find our full refund policy here.