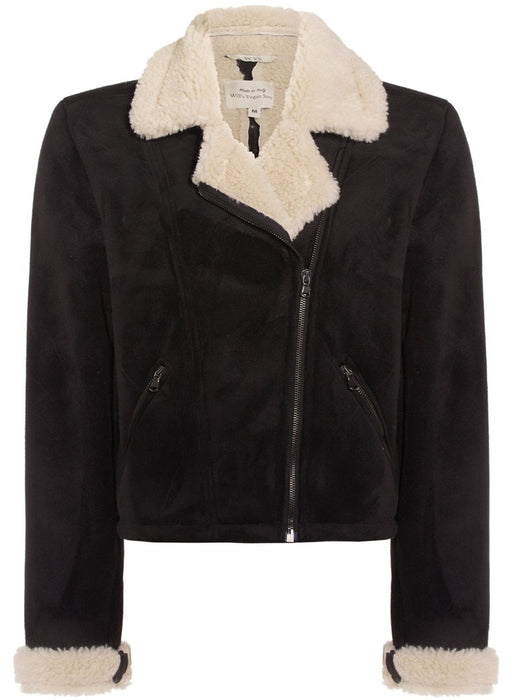 Recycled Vegan Shearling Moto Jacket
Original price
$188.99
-
Original price
$188.99
Our notes
We have taken our Biker Jacket and created a version for those colder days, when you just want to be close to deep, cosy and soft recycled vegan shearling. It has been cut with a heavier weight Italian vegan suede that has a rougher, more traditional feel than our usual suede. This material has been bonded to our recycled vegan shearling (made in Italy made from 100% recycled polyester) to create one piece of material that flows and moves with you as you wear it. The two cotton lined zip pockets hold your everyday essentials. This jacket has been finished with solid responsibly sourced Italian aluminium hardware and cotton WVS labelling and hangtag. We are working hard to help you reduce your impact on earth making it easier for you to Make A Positive Choice. Like everything we make & do, our clothing is certified Carbon Neutral. There is no packaging waste, we only use biodegradable plastic free packaging from the paper bags to the paper tape we use to seal them. Your delivery is certified Carbon Neutral, if you choose to use our 365 days free returns and exchanges service, that is certified Carbon Neutral too. This Recycled Vegan Shearling Moto Jacket is ethically produced in small batches in the heart of Tuscany, Italy. SUSTAINABLE // ETHICAL // VEGAN FASHION
Made with a heavier weight Italian vegan suede that has a rougher, more traditional feel.
Fully lined with insulating recycled vegan shearling made in Italy made from 100% recycled polyester
The vegan shearling is deep, cosy and soft, perfect for snuggling up to and wrapping around you to keep warm and luxuriously snug
Two zipped side pockets with cotton lining to fit your essentials
Finished with solid responsibly sourced Italian aluminium hardware and WVS labelling and hangtag
Ethics & Sustainability
This product is certified carbon-neutral
It's delivered to you through our carbon-neutral supply chain in paper and cardboard packaging
You can return it free of charge for 365 days with our paperless carbon-neutral returns service
Use our return to recycle service when this product's at its end of life
Always and forever vegan
Made in Italy
Refund Policy

We do not accept returns on items, except for clothing and shoes.

If clothing or shoes, we will accept returns up to 30 days from the date of shipment.

For all other items, if your item is damaged, lost, or incorrect, we will provide a refund within 30 days of the date of shipping. Please find our full refund policy here.