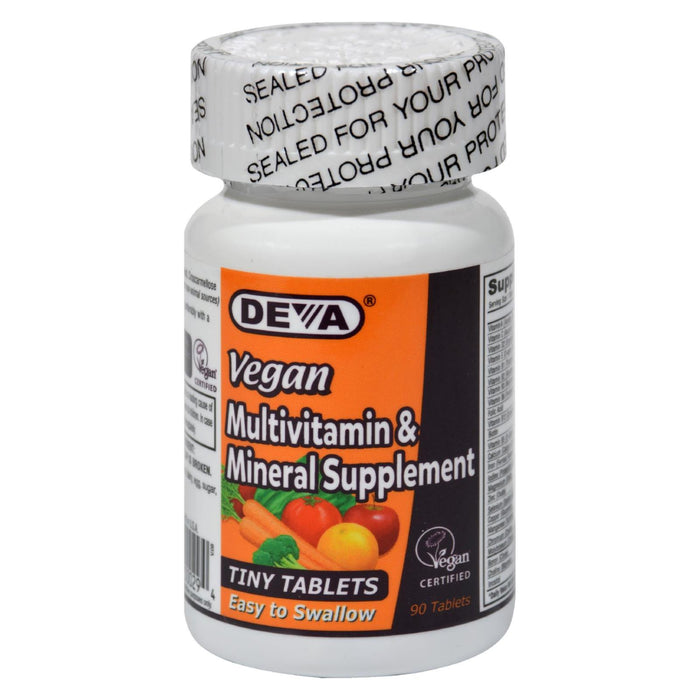 VEGAN TINY TABLETS MULTIVITAMIN & MINERAL SUPPLEMENT- 90 Tiny Tablets
Sold out
Original price
$12.99
-
Original price
$12.99
Deva Vegan Tiny Tablets Multivitamin & Mineral supplement provides a range of essential vitamins and minerals in a small, easy-to-swallow tablet that is ideal for those who have difficulty swallowing large pills. Formulated without animal ingredients or derivatives for vegans and vegetarians, this product provides 100% or more of the recommended daily amount of vitamins D and E, as well as most of the B-complex vitamins. It also provides high amounts of vitamin A, C, Folate, Iron, Selenium, and Iodine. DEVA Tiny Tablets Multivitamin also contains 250% DV of Vitamin B-12 which is an especially important vitamin for the health of vegans and vegetarians.
Getting vitamins and minerals each day is important for several reasons. Vitamins are involved in many processes required for the body to function properly. Particularly important are the antioxidant nutrients, which include vitamins A, C and E, and the mineral selenium. Minerals, including calcium, magnesium, zinc and others, are involved in many bodily functions.*
Deva Vegan Tiny Tablets Multivitamin provides varying amounts of vitamins and minerals while keeping the size of the pill small enough to swallow with ease. Those who usually avoid taking nutritional supplements that provide very high levels of vitamins or that are difficult to swallow will welcome the ease with which Deva Tiny Tablets can become part of a daily health routine. Deva Vegan Tiny Tablets Multivitamin is extremely affordable and certified by the Vegan Society, the non-profit group that invented the word "vegan".
DEVA Vegan Multivitamin is 100% animal-free, registered VEGAN by the Vegan Society, and guaranteed for purity, freshness, and labeled potency. 
Free of yeast, wheat, gluten, sugar, salt, dairy, egg, shellfish; animal products, byproducts or derivatives. 
Always consult your doctor before taking any dietary supplement. 
*Information and statements regarding dietary supplements on our website have not been evaluated by the Food and Drug Administration and our products are not intended to diagnose, treat, cure, or prevent any disease. Individual results may vary.
Refund Policy

We do not accept returns on items, except for clothing and shoes.

If clothing or shoes, we will accept returns up to 30 days from the date of shipment.

For all other items, if your item is damaged, lost, or incorrect, we will provide a refund within 30 days of the date of shipping. Please find our full refund policy here.