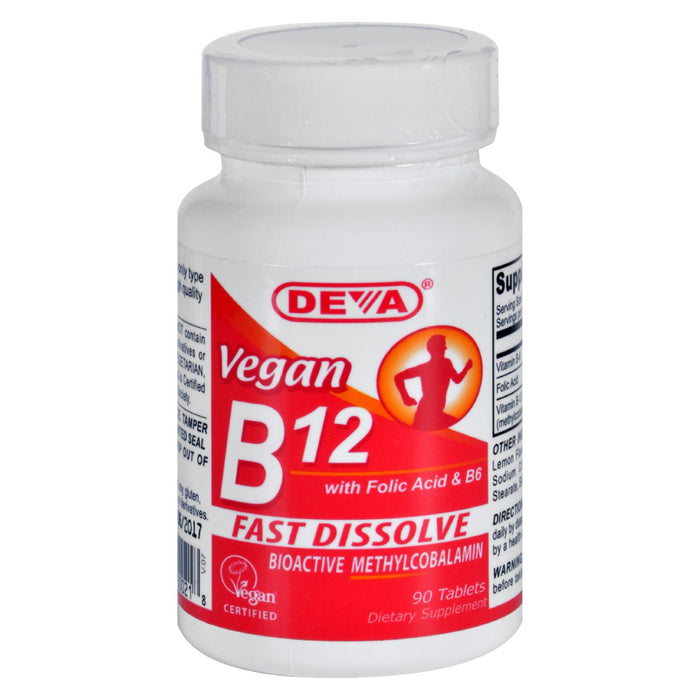 Vegan Vitamin B-12 (Fast Dissolve Lozenges) - 1000 MCG - Methylcobalamin - 90 Sublingual Tablets
Sold out
Original price
$14.99
-
Original price
$14.99
Vitamin B12 is a water-soluble vitamin that is stored in the liver. It is an especially important vitamin for maintaining healthy nerve cells and, it is of special interest to vegetarians and vegans since it is not found in any significant amounts in plant foods. 
Many elder people may be unable to efficiently absorb the Vitamin B12 found in foods. This is because the stomach's production of acid tends to decrease as we get older. It is this stomach acid that is necessary to break Vitamin B12 away from the proteins in food. This process must happen first before Vitamin B12 can bind with what is called intrinsic factor in our small intestines before then being absorbed.
Vitamin B12 is highly beneficial in various forms but DEVA Fast Dissolve B-12 contains only one form: Methylcobalamin. Methylcobalamin, the coenzyme form of vitamin B12 is a body-friendly version and can be used in its normal form. Our product comes as a small fast disintegrating tablet that can dissolve in the mouth before swallowing so people who have difficulty swallowing pills can take it easily as well. Each fast dissolve lozenge tablet provides 1000 mcg to ensure adequate intake. Deva B12 lozenges are also a potent source of Vitamin B6 and Folic Acid for those who want to combine the three vitamins for added benefits. Tablets are pleasant tasting, dissolve in a short amount of time and, can also be chewed if desired.
DEVA Vegan Fast Dissolve B-12 is 100% animal-free and guaranteed for purity, freshness, and labeled potency. Remember all DEVA Products are 100% vegan, vegetarian and are registered by the Vegan Society, the non-profit organization that actually invented the word "vegan".
Free of GMOs, yeast, wheat, gluten, soy, milk, sugar, salt, starch, preservatives; animal products, byproducts or derivatives.
Disclaimer these statements have not been evaluated by the FDA. These products are not intended to diagnose, treat, cure, or prevent any disease.

Refund Policy

We do not accept returns on items, except for clothing and shoes.

If clothing or shoes, we will accept returns up to 30 days from the date of shipment.

For all other items, if your item is damaged, lost, or incorrect, we will provide a refund within 30 days of the date of shipping. Please find our full refund policy here.