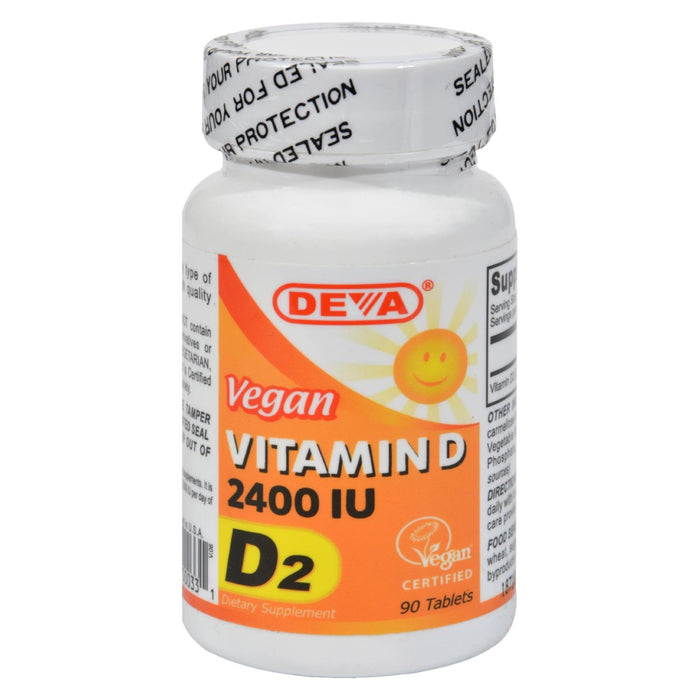 VEGAN VITAMIN D - 2400 IU - 90 Tablets
Sold out
Original price
$12.99
-
Original price
$12.99
Deva Nutrition is excited to introduce its higher potency Vitamin D supplement that provides 2400 IU of vegan-suitable vitamin D per tablet. Scientists have found that people who live in cool climates -whether omnivore, vegetarian or vegan- are more prone to lower Vitamin D levels due to insufficient sun exposure. All this is in spite of the fact that some fish contain vitamin D and, most milk, cheese, and ice cream are fortified with Vitamin D for those who follow an omnivore or a vegetarian diet. For vegans rules are the same. People who do not get adequate sun exposure or Vitamin D fortified/rich foods should be more careful about Vit D supplementation.*
People with limited sun exposure and darker skin may also consider supplementation, especially if they are homebound and live in Northern Latitudes.*
Since Vitamin D is also an important factor in healthy bone metabolism maintaining normal Vitamin D levels is recommended by many nutritionists and health professionals.*
DEVA Vitamin D is 100% animal free, and guaranteed for purity, freshness and labeled potency. Remember all DEVA Products are 100% vegan, vegetarian and are registered by the Vegan Society, the non-profit organization that actually invented the word "vegan".
Free of GMOs, yeast, gluten, wheat, preservatives, sugar, salt, animal products, byproducts or dervatives.
*Disclaimer these statements have not been evaluated by the FDA. These products are not intended to diagnose, treat, cure, or prevent any disease.
Refund Policy

We do not accept returns on items, except for clothing and shoes.

If clothing or shoes, we will accept returns up to 30 days from the date of shipment.

For all other items, if your item is damaged, lost, or incorrect, we will provide a refund within 30 days of the date of shipping. Please find our full refund policy here.