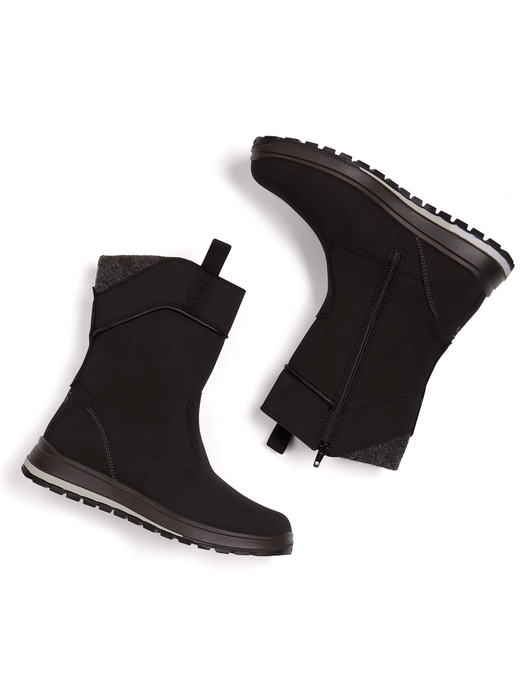 WVSport Insulated Country Boots
Sold out
Original price
$156.99
-
Original price
$156.99
Our notes
When you need the protection a pair of wellies provide from water, mud, slush, snow and everything else nature can throw at you but want the comfort and versatility of a walking boot, our WVSport Country Boots are the answer.
Now in this insulated version, built to withstand harsh weather conditions and freezing temperatures up to -22° / -7.6 Fahrenheit.

The fit is slightly wider with a rounded toe box with a little more height. You have more room to move your toes and to allow for a thick walking sock.

The rubber injection outsoles are designed with grip, traction, braking, and stability areas. They have an open tread. When it is super muddy, they will not clog up and will be easy to hose or scrape down at the end of a long walk.

You can put these boots through their paces and depend on them for reliability with outsoles that have been ballistic welded onto the uppers, so they will not part easily. The uppers have been created with abrasion and scuff resistant Lyliane 3DMX and Cordura materials. The construction is water-resistant so will protect you and keep your feet dry in most situations. You cannot wear these in running water, deep puddles or deep snow for extended periods of time. 

Where these boots come into their own is their all-day comfort. They sit snugly but comfortably on your lower calf, thanks to the soft, stretchy knitted back panel that does not dig in or rub. The outsoles are not heavy and have a nice flex, so they are different to a pair of wellie boots. They are more like wearing a pair of sturdy trainers that you can wear for long distances. Your feet walk on recycled removable cushioned anatomic insoles. The patented Support System supports your ankles.

WVSport models are designed and produced in the foothills of the Dolomite Hills, Italy.

We create each model using CAD design technology that simulates the different phases of the walking experience.

We use advanced components and construction methods to create the models, like Vibram soles and a patented Support System which means the fit is always comfortable and secure.

Development samples are lab tested for days for their abrasion resistance, durability and water resistance. New models can take months, sometimes years, to develop.

The factory features one of the largest photovoltaic plants in Italy, which means that 70% of the power used to produce WVSport footwear is from solar.
As well as working under EU employment, discrimination and health & safety law, the factory has a Charter of Human Responsibilities (or Code of Ethics), which helps ensure the company is committed to respecting its employees' rights, work, and dignity.

For sourcing the materials to create each model, we work with the factory using a traceability system that enables us to trace back every step in the production process to know what we use and where it has come from.

SUSTAINABLE / ETHICAL / VEGAN ACTIVE FOOTWEAR
Vibram rubber injection outsoles for super grippy traction and durability

Super comfortable with lightweight construction, flexible Vibram outsoles, a soft stretchy knitted back panel that does not dig in or rub, removable cushioned anatomic insoles and a patented comfort Support System

Insulated to withstand harsh weather conditions and freezing temperatures up to -22° / -7.6 Fahrenheit.

Recycled removable cushioned anatomic insoles

Advanced ballistic welded construction with abrasion and scuff resistant uppers created with Lyliane 3DMX and Cordura materials
| | | | |
| --- | --- | --- | --- |
| US Size | EU Size  | Circumference at the top of the boot (inches) | Shaft Height (inches) |
| 5 | 36 | 10.4 | 8.5 |
| 6 | 37 | 10.8 | 8.7 |
| 7 | 38 | 11 | 9.1 |
| 8 | 39 | 11.4 | 9.3 |
| 8.5 | 40 | 11.8 | 9.4 |
| 9 | 41 | 12 | 9.5 |
| 10 | 42 | 12.2 | 9.8 |
Ethics & Sustainability
This product is certified carbon-neutral
It's delivered to you through our carbon-neutral supply chain in paper and cardboard packaging
You can return it free of charge for 365 days with our paperless carbon-neutral returns service
Use our return to recycle service when this product's at its end of life
Always and forever vegan
Made in Italy
Refund Policy

We do not accept returns on items, except for clothing and shoes.

If clothing or shoes, we will accept returns up to 30 days from the date of shipment.

For all other items, if your item is damaged, lost, or incorrect, we will provide a refund within 30 days of the date of shipping. Please find our full refund policy here.