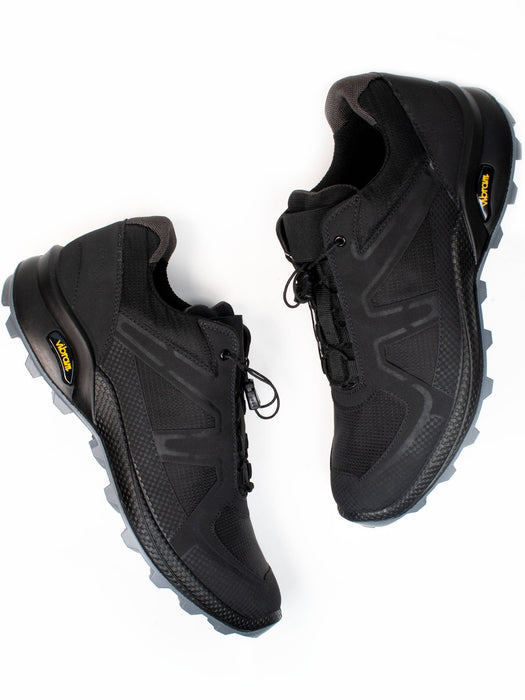 WVSport Oakes Cross Running Trainers
Original price
$115.99
-
Original price
$115.99
Our notes
Developed for three times world record holder Fiona Oakes.
Built to take the most extreme running environments experienced by Fiona from the Sahara Desert to the North Pole. The Oakes Cross Running trainers were made for rugged trail running. The Vibram rubber injection outsoles provide super grippy traction and durability. The ballistic welded uppers created with Lyliane 3DMX advanced abrasion resistant materials can take the punishment of trail running.
Carbon neutral, vegan and ethically made.
10% of proceeds support Fiona's Tower Hill Stables Animal Sanctuary.
#RunForSomethingGreater
Advanced ballistic welded abrasion resistant, water resistant and breathable uppers created with Lyliane 3DMX materials
Vibram rubber injection outsoles for super grippy traction and durability
32x 5mm deep outsole lugs allowing for traction on all terrain
Speed lace construction system for fast and snug lacing with a storage pouch on the tounge Runner type: Neutral gait 10mm drop differential D width fitting
Removable EVA insoles for support forefoot and midfoot
Ethics & Sustainability
This product is certified carbon-neutral
It's delivered to you through our carbon-neutral supply chain in paper and cardboard packaging
You can return it free of charge for 365 days with our paperless carbon-neutral returns service
Use our return to recycle service when this product's at its end of life
Always and forever vegan
Made in Italy
Refund Policy

We do not accept returns on items, except for clothing and shoes.

If clothing or shoes, we will accept returns up to 30 days from the date of shipment.

For all other items, if your item is damaged, lost, or incorrect, we will provide a refund within 30 days of the date of shipping. Please find our full refund policy here.