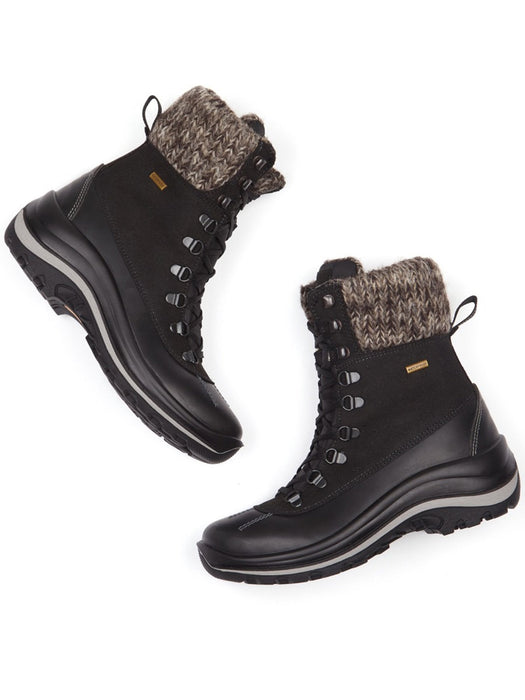 WVSport Snow Boots
Original price
$156.99
-
Original price
$156.99
Our notes
We designed our WVSport Snow Boots from the ground up to keep your feet warm & dry. These are high-performance carbon-neutral snow boots built to withstand harsh conditions and freezing temperatures up to -22° / -7.6 Fahrenheit.
Duck boot construction coupled with a water-resistant membrane that your foot sits in like a sock ensures high water resistance. 

A vegan wool collar locks heat in the boot. Your feet sit in soft vegan shearling that luxuriously lines the inside down to your toes. The laces slide easily through the articulated lace hooks, pull on them to hug the boots against your ankles, for super comfy and snug boots.
Whilst we recommend using these with ice spikes in icy conditions (like all footwear), the rubber injection outsoles are rugged and dependable. They have areas for grip, traction, braking and stability. The outsoles have been ballistic welded onto the uppers, so they will not part easily.
WVSport models are designed and produced in the foothills of the Dolomite Hills, Italy.
We create each model using CAD design technology that simulates the different phases of the walking experience.

Advanced components and construction methods are used to create the models like Vibram soles and a patented Support System which means the fit is always comfortable and secure.
Development samples are lab tested for days for their abrasion resistance, durability and water resistance. New models can take months, sometimes years, to develop. 
The factory features one of the largest photovoltaic plants in Italy, which means that 70% of the power used to produce WVSport footwear is from solar.

As well as working under EU employment, discrimination and health & safety law, the factory has its own Charter of Human Responsibilities (or Code of Ethics), which helps ensure the company is committed to respecting its employees' rights, work, and dignity.

For sourcing the materials to create each model, we work with the factory using a traceability system that enables us to trace back every step in the production process always to know what has been used and where it has come from.

Advanced ballistic welded duck boot construction with abrasion and scuff resistant uppers created with Lyliane 3DMX and Cordura materials.

Rubber injection outsoles with areas for grip, traction, braking and stability.

Highly water resistant with a special membrane, sealed tongue and treated uppers (no PFC's like all our WVSport collection) that allows breathability and long-lasting protection.

Fully lined with insulating vegan wool and vegan shearling keeping your feet warm down to -22 degrees / -7 6 Fahrenheit.

Removable EVA insoles for support forefoot and midfoot.
Ethics & Sustainability
This product is certified carbon-neutral
It's delivered to you through our carbon-neutral supply chain in paper and cardboard packaging
You can return it free of charge for 365 days with our paperless carbon-neutral returns service
Use our return to recycle service when this product's at its end of life
Always and forever vegan
Made in Italy
Refund Policy

We do not accept returns on items, except for clothing and shoes.

If clothing or shoes, we will accept returns up to 30 days from the date of shipment.

For all other items, if your item is damaged, lost, or incorrect, we will provide a refund within 30 days of the date of shipping. Please find our full refund policy here.